Review of Alibaba Aur 40 Chor
Introduction
Eagle Films produced one of the most expensive films for its time. Shot in Uzbekistan at some really deserted and wonderful locations, which suit the films setting, it is perhaps the best it has offered its audiences in terms of a big budget movie. Alibaba Aur 40 Chor has high production values; from the special effects, which are still not as bad as I expected the last time I saw this film (about ten years ago), to the wonderful cinematography which still influence me as a film student.
The film even has international appeal with cast and crew members from around the world, well mostly Russia, America and India. Although a modest hit, the film never gained the recognition as the mega blockbuster anticipated by the filmmakers when first released. The feeling was quite negative and we never saw an Arabian night adventure on Indian screens until Ajooba in 1988 and Rajkumar in 1994, and even these both flopped miserably at the box office.
The performances from the supporting cast can range from hammy to average. I say this as most cast members have a bad case of bad lip-sync and dialogue delivery. It's not really their fault since most didn't speak a word of Hindi. While in principle photography they spoke in their native tongue, which was then later dubbed into Hindi.
The Indian cast seems to be having fun while they don their fantasy roles. Dharmendra is quite good as the Arabian character and has the right build and emotions to carry off the role. Thankfully he was never typecast in similar roles in later films, although a couple of movies did resemble his character, namely Dharam-Veer. Hema Malini, Prem Chopra and Zeenat Aman lend a hand too in the roughly written screenplay as best they can.
The screenplay itself is rather lengthy and time consuming. Even some minor subplots need not be in the script, but they are there, as conventions of Hindi cinema seem to dictate it so. Direction is a little slow in some places as were many Hindi films when shot during the mid 70s.
Perhaps the best overall thing in this movie is the strong and complex score by R.D. Burman, who gives us immortalised song scores like 'Khatooba' and 'Jaddugar'. The background theme is also quite memorable and almost has the makings of a distinctive theme! Some don't consider this his best work, but I can feel the Burman magic present.
Kids will either hate or love this film, many adults might consider it watchable, and me, I think it's the only decent Arabian night film Indian audiences have had since Wadia Pictures who used to produce similar films in India back in the 1940s and 1950s.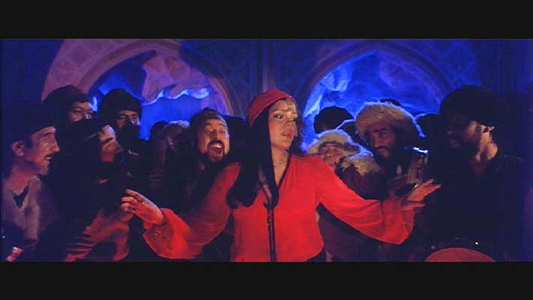 Video
The film is presented for the first time ever in its original widescreen aspect ratio of 2.40:1, which has been anamorphically enhanced. This is great news as audiences can now see the wide cinemascope canvas in its original ratio, as set out by the director and cinematographer.
Taken from the interpostive print that was made from the original negative stored in Indian labs, this is the closest to being the second best older Indian DVD title ever, the first being the Pukar DVD which was also done by DEI. The 35mm print used for Alibaba Aur 40 Chor is in excellent condition, never has the film looked so clean, fresh, and tasty. I say tasty as the colours really do shine in a very bold, majestic and vibrant manner. Only does slight colour loss appear during the special effects and a couple of outdoor sequences which are mostly due to the limited facilities India had at the time of shooting this picture. The colours are rendered and saturated in an impressive manner and at times never shows its age.
It is only during the opening credit sequence that mild forms of wear and tear are seen. The blemishes come in the form of small white specks and thin white lines. After the credits the film is quite clean with only small black dots and the odd green fungus making its appearance in at times an unnoticeable fashion. Clearly the film was stored in good condition for it to survive the ills of age and damage normally founded on Indian films, and especially one this old.
The film goes as far as beating ALL new Indian DVD titles released this past year by other companies. It looks more cleaner then Chori Chori Chupke Chupke (2001) done by Eros, Mohaatbatien (2000) done by Yash Raj, Tum Bin (2001) by Video-Sound and Rahul (2001) by WEG. All these DVDs were done in just a couple of weeks, and in some cases days after its theatrical release yet they still look poor in comparison with an older DEI title, like this one. The point? Well the point is that the Alibaba DVD looks good and I'm measuring the scale in terms only most would understand.
Thankful as with normal DEI standards no major encoding problems like compression artefacts, pixilation or edge enhancement made its presence on this disc. Only a fraction of shimmering and moiré effects are seen which don`t distract. Contrast detail is within proportion while dark details and shadows are in balance keeping us filled with detail in all extremes the film was shot in.
The sharpness and detail are postively brimming with superior picture. It`s crisp and accurate, and I don't think it even looked this good on the big screen. Everything is clearly labelled, and with the help of the high bit rate (average of 6Mbit/sec) you`ll really appreciate the film and how much effort went into its production. When you realise this you know the DVD has done its job.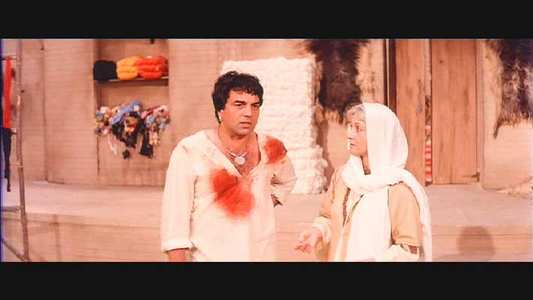 Audio
Unfortunately the excellence of the disc stops here when we come to the audio. Presented with Dolby Digital 2ch mono, the sound has problems of being unclear and inaudible. At times the sound is rather muffled, confusing in some places and also has some noise and hiss heard during the entire movie. Understandably the soundtrack has aged, yet I'm sure DEI could have found a better soundtrack from a secondary source. Still it`s no worse then the VHS version.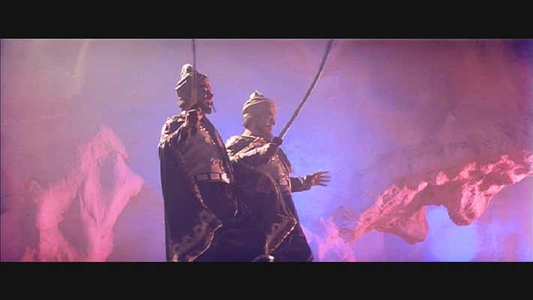 Features
The menus are quite impressive in design and really set the tone for viewing the movie. No other special features are available except the inclusion of English subtitles which is the norm for all DEI titles. You`ll be glad to know that 100% of the film is translated excellently! Finally this DVD has easy access to all the songs that can be played at one go. This does come with a small price to pay however as there`s a small pause after each song during the main feature. This isn`t too distracting since it`s like a layer change which occurrs a few times and will only be noticeable to some viewers who aren`t too keen on this.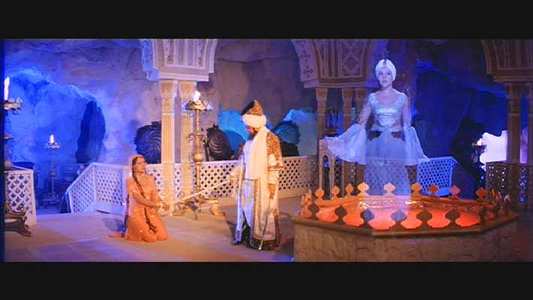 Conclusion
A great disc despite its minor faults in the audio department which is due to the age of the print. The film will never look better then this so its worth the purchase if you`re interested.